You are here
Ajuda Botanical Garden
Ajuda Botanical Garden (JBA), a Technological Support Unit, belongs to ISA since 1910, attached as an infrastructure for education and research. It was established in 1768, being designed by an Italian botanist, Domingos Vandelli, from Padua, and summoned by King Joseph to teach the royal princes.
Regardless of Lisbon being spread around with several greenhouses nursing species from Africa, Asia and Americas, JBA is the first botanical garden in Portugal projected to preserve, study and collect the most possible species from the plant world. It had, at one time, around 5000 species laid out according to Linnnaeus, Vandelli's master, proposed Systema Sexuale classification.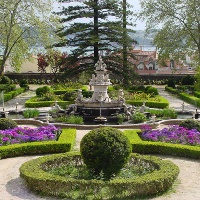 With an area of 35000 sq. meters, across two beds with a vertical variance of 6,8 meters, its design follows renaissance models of terraces spread across slopes, with three basic components: carved rock, plants and fountains and ponds. However, the existing decoration is, noticeably, from the Baroque period (namely the central fountain and side and central stairways). The garden has two types of utilization: the upper level is where all plants are classified, being the lower level the ornamental park with shrubs, and organized according to recreational green spaces specifications. There are as well, for blind people, the 'fragrant garden' with aromatic and medicinal plants, and the arborinho.
In the vicinity one can find Ajuda Palace, the Agro-Tropical Garden-Museum, Jeronimos Monastery, Cultural Centre of Belem and Belem Tower.
Ajuda Botanical Garden, an historical space with more than 240 years offers, the general public and education institutions, site visits and hands-on awareness sessions, mainly towards the young public, concerning biodiversity preservation.
With over 1000 planted species and a Seed Bank, JBA provides excellent educational resources for better understanding of the world of plants.
For further information about the grounds tours please visit Ajuda Botanical Garden Website.
Opening hours
Please see http://www.isa.ulisboa.pt/jba/horario
Contacts
Web: http://www.isa.ulisboa.pt/jba
E-Mail: botanicoajuda@isa.ulisboa.pt
Postal: Calçada da Ajuda s/n, 1300-011 Lisboa, Portugal
Phone: +351 21 362 2503