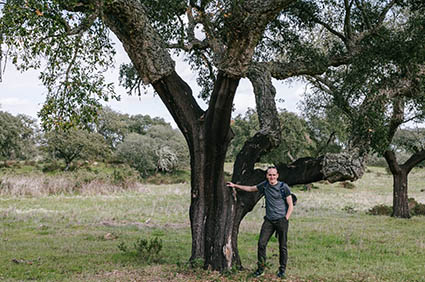 Lukas Flinzberger
PhD student
Email: lukas.flinzberger(a#t)uni-goettingen.de
Lukas Flinzberger, is a PhD researcher from the University of Göettingen, Germany, who is joining CEABN for a short term collaboration. Lukas background is on Geography and Environmental Planning. Since 2018, Lukas is working on his PhD, which investigates how labelling and certification may contribute to environmental conservation and rural development. Lukas is jointly supervised by Prof. Tobias Plienninger, of the University of Göttingen, Prof. Miguel Bugalho of CEABN/ISA and Dr. Yves Zinngrebe, of the Helmholtz Centre for Environmental Research in Leipzig, in Germany. Until now, Lukas has investigated labelling options for products generated in agroforestry systems and mapped the distribution of the European certified products. After finding positive correlations between social-ecological indicators and PDO products, he is now investigating the causal reasons behind this. Besides interviewing campaigns in Germany, Greece, and Spain, Lukas is also conducting interviews with stakeholders in Alentejo, in Portugal, with assistance from ISA colleagues. As a part of his stay in CEABN and ISA, Lukas will present a workshop on the preliminary results of the field work and is expecting a fruitful exchange on the potential of certification and labeling as instruments for rural development and for the conservation of social-ecological ecosystems such as the "montados".
Contents will be available soon...
Contents will be available soon...